The accelerator
It's more important than ever to avoid dependence on resellers or brick-and-mortar stores when it comes to your sales channels. But, going digital can be an intimidating project for an organisation.
Vaimo can help you to launch an enterprise-ready PWA eCommerce website within 12 weeks for the following businesses:
Business to Business (B2B)- Catalogue or eCommerce website with simple pricing
Direct to Consumer (D2C)- eCommerce website for a single product, category or independent brand
Business to Customers (B2C)- eCommerce website for a single product, category or independent brand to connect and sell to your brand followers
🚀 How can the accelerator help you to launch your eCommerce site within 12 weeks?
STEP 1

- Accelerated Discover, Define & Design process
STEP 2

- Setup & Development
STEP 3

- Train, Prep & Test
STEP 4

- Go-Live & Post-Launch
STEP 5

- Ongoing - no need for a developer on staff- we take care of hosting, managing & maintaining your eCommerce site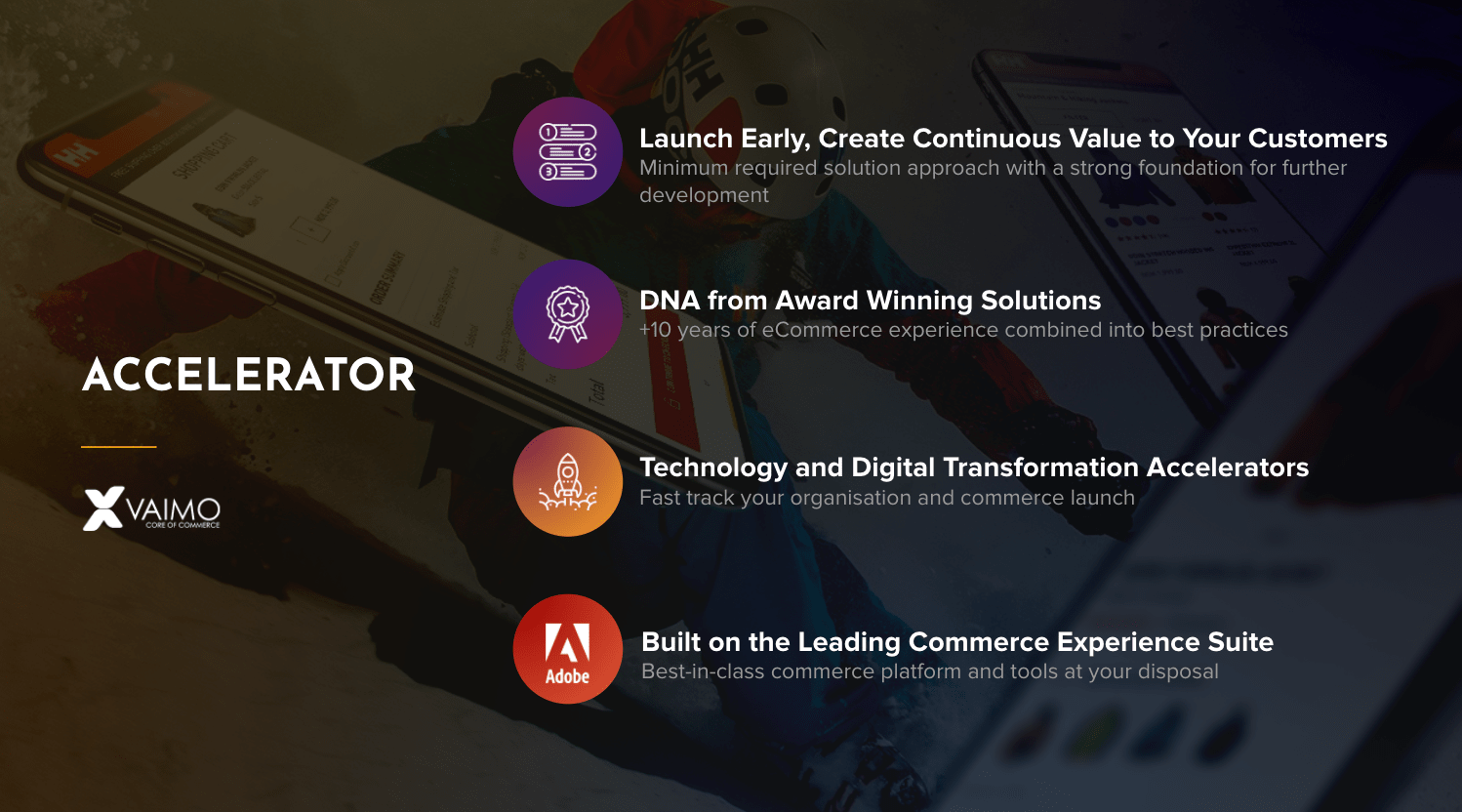 About Vaimo
Vaimo is one of the world's most respected experts in digital commerce on the Magento Commerce and Adobe Commerce Cloud platform. As a full-service omnichannel agency, we deliver strategy, design, development and managed services to brands, retailers and manufacturers all over the world.

With local offices in 15+ markets across EMEA, APAC and North America and over 500 employees, we provide an international presence that allows us to cultivate close, long-term relationships with our clients.
About MAGENTO Commerce
Magento Commerce gives you the power to create bold and unique shopping experiences that will transform your business. It is built for rapid and cost-effective innovation, and combines rich, out-of-the-box functionality, enterprise performance and scalability, with powerful business tools to keep you ahead of increasingly complex commerce operations and growing consumer demands.