The accelerator
In times like these, it's more important than ever not to be dependant on resellers or offline shops. But, a digital transformation can seem like an intimidating project for a large organisation. Therefore, Vaimo created the Quick Launch Accelerator to help companies launch an enterprise-ready PWA eCommerce store within 12 weeks (a typical time frame for an eCommerce site is 6-18 months!). With a Minimum Viable Product (MVP) approach, you can launch first, then continue to add complexity in phases.


🚀 How does Quick Launch Accelerator work?
STEP 1

- Accelerated Discover, Define & Design process
STEP 2

- Setup & Development
STEP 3

- Train, Prep & Test
STEP 4

- Go-Live & Post-Launch
STEP 5

- Ongoing - no need for a developer on staff, we take care of hosting, managing & maintenance.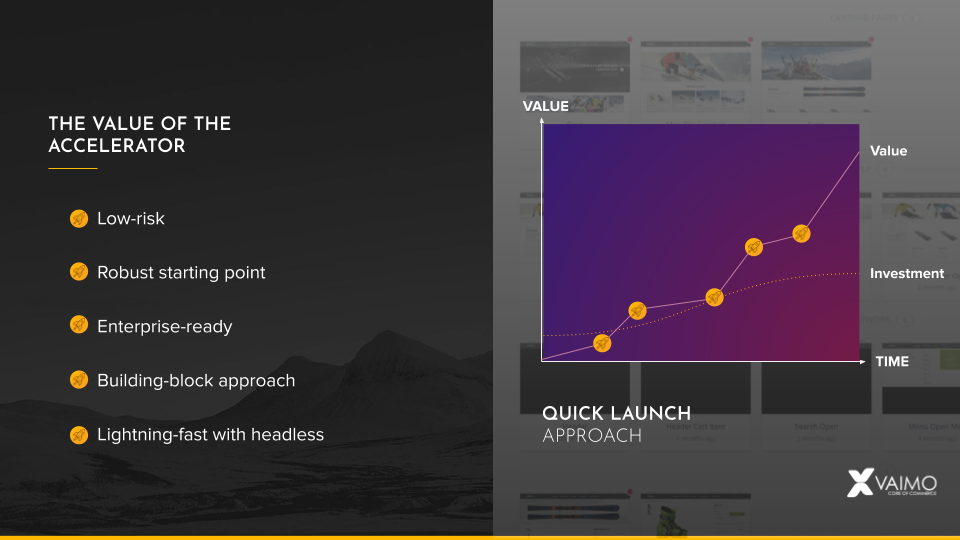 About Vaimo
Vaimo is one of the world's most respected experts in digital commerce on the Magento and Adobe Commerce Cloud platform. As a full-service omnichannel agency, we deliver strategy, design, development and managed services to brands, retailers and manufacturers all over the world.

With local offices in 15+ markets across EMEA, APAC and North America and over 500 employees, we provide an international presence that allows us to cultivate close, long-term relationships with our clients.